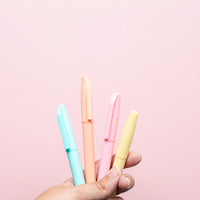 Why are you here?
Welcome to Magnetic Unicorn.

You're here because you are ready to take back the reigns on your life. You're tired of fitting in, feeling overwhelmed, burnt out, and exhausted.
You've been doing things for other people, but it has backfired 100% of the time. You want a way out but want a way back into who you really are. You want to take your power back.

You also want to stick out and stand up for what you believe in, for what you deserve. You want to show up authentically, genuinely and honestly with the world. You are ready to shine your light!

But you're hesitating. You're worried that things won't work out. You're scared to take the step. You've been in your comfort zone for so long, and you aren't ready to leap, but you know you have to, to make a change in your life. To bring peace, power and magic back into your life. To feel the zest of life again.

During these realizations, you are remembering who you are again, but it's scary to navigate these waters alone and you want someone to guide you and be there for you every step of the way.

This is where Magnetic Unicorn and Kare can help.
Hey! I'm Kare.
My name is Kare. I am a manifestation & success mentor/coach, ascension guide, freedom activator, digital copywriter, oracle card reader, video editor, career transition mentor and certified life coach.

I grew up learning and believing that if no one else was achieving what I wanted to do, that it would be impossible to do and I lived a boring and uneventful life for over 10 years. I accepted my reality as the only truth. It wasn't until I enrolled at university that I realized I had options. I had the choice to be free and do what I want or I could keep living the life I always had in the box.

It felt so freeing!

I chose to be free and to keep pushing through and follow my dreams & heart no matter what anyone tells me. As long as I believed in myself, it will happen. And so it did.

I manifested going to my ideal trip in Japan, making friends who really understood me and were kind to me, getting into the relationship of my anime-fan-like dreams, and working at my dream tech company and so much more.

I believe that whatever you want exists in another reality already, and all you need to do is draw it into your current reality.
I have helped people figure out their purpose, manifest their dream careers and their ideal reality.
I help visionary people create the future that they want in their life and career, NOW.
This allows my clients to ultimately attract success with their dream life, career, relationships and live their life with purpose, passion & authenticity.

I would love to help you achieve this! Click the button below if you would like to connect.
Cool! I want to work with Kare and manifest everything I want! Let's go!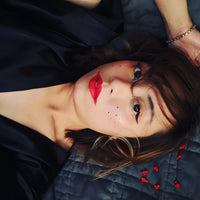 Frequently Asked Questions
What is manifestation?
Manifestation is the steps you take to make a goal, vision, or dream come true. What you think and feel become your reality.

With coaching from Magnetic Unicorn, we will use tried and tested manifestation techniques and spiritual tools to optimize your life, so that you can gain confidence and have more energy to do and receive the things you want and love in your life, career, and relationships!
I get it! I'm ready to manifest my best life!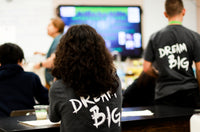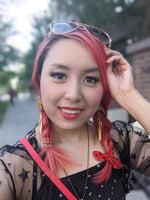 Why work with Kare?
Here is what I want you to know about the level of my work and how I'm unlike every other coach out there:
NOT EVERY COACH WILL HAVE:
- real world 20+ years of experience supporting visionaries and entrepreneurs with building their business and manifesting their ideal career and life
- real world, 20+ years of experience in applying the strategies that they teach
- real world, 10+ years of experience in transitioning through different job industries, quitting jobs, and landing her dream jobs
- real-world, 3+ years of experience working in tech and with over one million entrepreneurs from all over the world with moving forward in their businesses
- 10+ years of up-to-date training and research in career transitions to help you learn how to get and embody your ideal career
- 5+ years of up-to-date training and research in manifestation, metaphysics and entrepreneurship to help you learn how to embody and tap into the frequency of your best life
- a solid framework to support your divine ascension and awakening with ease, love and understanding
NOT EVERY COACH...
- had to overcome the past by facing her shadow and learning how to use the power of her subconscious mind to become a potent manifestor
- is as real and authentic as they come who is creative and takes risks emotionally, mentally and physically
- validates, recognizes, affirms and sees you
- has a network of over 1,000 people to connect you with opportunities to uplevel yourself, your business and career
- has facilitated, and lead hundreds of virtual events
- is understanding and non-judgmental because she started from the bottom and experienced the pain of being rejected and abandoned before finding the resilience within to stand in her own power
- healed herself from asthma, eczema and menstrual pain
Amazing! I want to work with Kare to transform my life and/or career now!
Why coaching?

Are you tired of continuously asking for approval? Are you too exhausted pleasing other people and not yourself?
Have you been working on something for so long, but it no longer serves you, and you're afraid to leave and start something new?
Does your soul feel tired and you want that to stop? Do you want to feel joyful and uplifted?
Do you want to experience life on your own terms and take it by the reigns? Do you want to be magnetic? 

If you said "Yes" to any of the above, then coaching might be right for you.
Coaching focuses on the present to help you move towards the future. It can also keep you accountable and disciplined with your goal by outlining clear next steps with your coach.
When you're coached by Kare, you will gain more clarity, insight and awareness to help you move towards your destination and achieve it.
Okay, I get it. I'm ready to connect and get closer to my goals!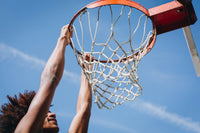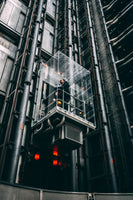 What is the law of vibration?
The law of vibration is the idea that everything (atoms, energy, people, etc.) vibrate at a certain frequency.

When you vibrate at a certain frequency, you become that frequency.

At Magnetic Unicorn, Kare will show you how to tap into the frequency of your true self, and live your ideal reality. You deserve to live your life the way you want, and she'll help you get there.
That sounds really good. Count me in!
We love our clients <3
She reconnected with her Higher Self!
I can't say enough good things about the manifestation session with Kare - she created an incredibly powerful, warm, welcoming, nonjudgmental and compassionate space. She is an amazing listener, really saw me clearly, and came up with such creative exercises and visualizations to guide me to reconnect with my Highest Self. I was so inspired afterwards that I made some drawings of the exercises! I highly recommend working with Kare!!

Toni L. - coach
From not sure what to focus on within herself to communicating her needs & boundaries and being herself unapologetically!
To put it simply I was feeling very confused & turned around. When it came to my business and what I actually needed to focus on within myself to move things further along with it.

Also I was having a hard time keeping my energy up at home with my parents. There were a few things that would cause me to feel distressed often.

And I was also feeling off in my relationship.

During the program I felt so seen & heard 🙏.

I think because I've faced a lot of harsh criticism over the years. There's still a part of me the felt scared of being judged or "weird" for feeling the way I was about certain things.

But Kare made me feel completely at ease. Great bedside manner 🙂

After the program I 100% feel a big shift within myself. I have grown to feel a lot better about my surroundings and with navigating my professional ventures.

I especially learned that sometimes what you think could be causing a roadblock or issue, could actually be something else entirely. So it's important to take pauses, talk things out, ask yourself what you want & validate your feelings in order to figure out the best course of action for yourself. And above all there are always solutions & workarounds for everything!

I also became a lot more comfortable with communicating my needs & boundaries and being myself unapologetically!
With business I have definitely been coming more out of my shell & my confidence has increased in many areas.

The things that used to bring me so down at home, I do a much better job and recognizing why people act they way we do and brush the negativity off a little bit easier.

I learned how to better communicate my wants & needs in my relationship and how to navigate things going forward.

I feel more in tune with myself. I don't really feel as turned around anymore I feel more grounded and more free. Now that I have been allowing myself to be more comfortable expressing myself and doing things I enjoy

Take the leap! You will discover so much about yourself and find great ways to navigate those deep pain points and struggles. All while being 100% loved and supported

- Tori M., accountability coach
From feeling desperate, hopeless and overwhelmed, to feeling confident and empowered with her marketing for her business!
I was desperate, hopeless, overwhelmed. I feel you gave me the tools I needed to. I feel validated and listened.
When you said I can click on the # (hashtags) and comment on the publications that used it to be more visible to others. Mind blowing! I've never heard or read about that before.
I felt confidence, faith, empowered and well equipped with marketing tools and tips.
I love the fact that you reformulated what I said to make sure you understood me well. You were focused, structured and calm in appearance.
Catherine G. - sexual health therapist
From stressing about her goals to getting breathing room on the next step for her career
[I was] Uncertain about my abilities and how to sell them for the job market.
I felt Kare created a safe space to speak freely about career struggles.
I'm still working on it, but my family and friends were all understanding, and speaking to Kare made me realize that no one was judging me for my situation. It allowed me to give myself a bit of breathing room to assess what I want to do next with my career.

Kare made me think about how I think about myself and how to reset my goals so that it's not so stressed based.
We were talking about a particular type of work, and she made me realize that I didn't actually want to do that job. It was really freeing! I was forcing myself to apply for things I didn't want to do, which was adding to the stress of the job search.

[Kare] listens, and rather than agreeing with everything you say, she validates and analyzes your responses so they make sense and you don't feel like you're going off the deep end for the way you feel.

I think her overall energy and non-judgmental aspect. You'd be surprised by how many "coaches" use a tough love approach which isn't helpful.

Kare exudes a kind, non-judgmental energy that helps you pinpoint some major roadblocks.

I would encourage anyone to check out her services. She'll put your concerns at ease.

Carolyn M.
From feeling sporadic and like a gamble to manifesting a replenished bank account, listening to her inner-voice and putting herself FIRST!
I was feeling a bit sporadic with manifesting, it felt like a gamble… try it and hope for the best [and] I retired from my 9-5 just before getting into the program, so that was a drastic change. However, since being in the program, Inhave been able to "replenish" my bank account with expected and unexpected means!

My relationship to myself and my life has changed for the better because I pay closer attention to my "inner voice" and don't contradict or second-guess it, and good things are the result. I also take better care of myself and put myself first more often than I used to with a fiancée and a daughter in the house to tend to. 🥰

In my experience, the energy of Magnetic Unicorn is one of patience and acceptance, and soulful guidance. Kare somehow looks to your soul and finds what it needs, and how to go about getting it.
Kare is great to work with. She takes time to listen to you and process what you have going on… and then direct your thinking and and give suggestions on possible actions to take (and why) for better results.

I have not worked directly with another manifestation coach before, so she's the best I've worked with! 😉

- Nicole Else W., life and business coach
From being frustrated in trying to make LoA work to getting free stuff, mental shifts, being calm and more intentional interaction with her life
Frustrated as I felt I didn't really know how to make loa or assumptions work

Free stuff and mental shifts, calmer, have seen it work but still not in the way I want it to but it's getting there

More intentional interaction with my life

A-ha moment: When I realized I didn't want to be vain or materialistic and was worried people would see me as that

[Kare is] Absolutely amazing. She really seems to care about clients and is super communicative

It felt like I was seeing a friend

Kare's a rainbow lol

Just do it, you aren't going to find a more caring person to work with

I've said it over and over, I'm just really grateful we met, that she [Kare] was brought to me when I asked and that she has been so patient and understanding

- Sammi D. , female therapist and empowerment coach
From feeling lost to experiencing better in her life
I was feeling upset, frustrated, and lost.

I have experienced more clarity and more motivation to focus on myself and my goals.

I've reinforced the thought that I deserve good things. And I've been able to see what areas in my life I can and will improve. It's helped me to have more patience but also more boundaries with loved ones.

I feel more loved and taken care of.

[I learned] That I can shift my reality just with simple habits.

[Kare] is super sweet and super patient and kind. And when she needs to say something, she says it in a loving way. I feel supported and uplifted whenever I talk to her.

My favorite part was just getting to talk to someone who works so fervently on her dreams. Knowing Kare is an inspiration; helps me reinforce the fact that I deserve better in my life.

[Kare] is so full of light and hope and strength. And she is a kind soul.

[E]very dime is worth it. Save your money to work with her if you need to, but if you feel pulled towards her, do not ignore that feeling. Even if you have to wait a while.

I love how supportive Kare has been towards me. I do wish we would have had more sessions, but I also know her time is very precious. I love how I feel when I talk to Kare bc she genuinely wants me to grow as a person and wants to see me shine ❤️

- Jade S., author & writer, empowerment coach

From 5'8 to 6'3 and changing their relationship with themselves to a positive manner
I wasn't sure enough what to do and where to start.

I felt incredible like everything I desired it's already here and it felt really good.

My relationship with myself has changed in a positive manner, I have confidence and everything I needed.

I have a pretty good relationship with my soul and my spiritual connection, like they listen what I say or want and I also follow their messages.

The biggest a-ha moment was when I became tall. I literally gained like 6-7 inches.

Kare is very supportive, she payed attention on whatever I had to say. I loved her positive attitude towards everything I asked her and she answered everything patiently.

Every part of the session was my favourite like I was being introduced to something new in every part of my session.

Kare has very positive and confident energy, she was like you can do anything whatever you think big, small, huge anything is possible and I loved that.

I'd suggest [you] to book a one on one session with her. She's very supportive throughout the session and she'll also help you figure out anything you want in your life.

- Arnit
From not being able to help herself to feeling confident and like she is good enough and solving her overthinking
I was afraid of things and was not able to think how to help myself and get out of this cage of fear which was making me depressed.

I felt good because kare, was listening to me. No one make me feel listened and it was my first experience to be listened and which made me confident about myself and I felt like I'm good enough.

I started to think out of the box. I was self -assumed and now i don't assume things that much. My problem of overthinking is solved.
I believe that i should listen to myself and I should not consider myself as an object.
It was when i told kare about my best memory of being in car, which made me feel like oh my god! There was this moment too in my life once.
kare was my first mentor and she is the best person I've ever met in my life.
She is very good listener.
You should definitely should take coaching from kare!!!!!
She didn't make me feel like I'm having any problem but it was like i was recounting on things. Thankyou so much:)

- Kia
From having fears, mental blocks and limiting beliefs to self-actualization, breakthrough, a better mindset and outlook on life
Carolynn is an incredible manifestation coach with a warm welcoming energy. She helps you realize your true potential through her technique of posing the right questions. This gives you an introspective view of what is holding you back and how to move forward. This lead me to self-actualization and facilitated an amazing breakthrough in only one session. With her loving guidance and support, she is able to help you identify personal mental blocks and limiting beliefs, allowing you to better understand yourself and your motivations. When she asks the right questions, it helped me to change my mindset and outlook on life, leading to positive change and hope for the future. Compared to other coaches, she empowers you to make this change for yourself, instead of just telling you what to do or giving unwarranted advice. When she allows you to come to your own conclusion, it is a tremendously powerful experience. I would recommend booking Magnetic Unicorn for anyone that is ready for real positive change in their life.

- Steve M., musician
From negative thoughts, and feelings to feeling lighter, more self-aware, grounded, refreshed and insightful
Kare is an intuitive coach and wonderful listener. I am able to come to many realizations and new insights as a result of the clearing she provides. Kare truly knows how to listen. Don't hesitate to work with her if you would like to gain self-awareness. She is also able to handle lots of venting without being personally affected as she is able to transmute negative energy into peace, relief, and positivity. I always walk away from her coaching feeling lighter, more self-aware, grounded, and refreshed. Thank you Kare!
- Saia Y., life coach
From being stuck in her thoughts to taking action on lottery winning streaks
I would recommend Kare. She really listened to my thoughts and made notes as we were talking. We went over time and she helped me out with actionable plans to change my thought pattern. She related to me and validated the feelings that came up when exploring my lottery winning streaks. I liked her. I would use her services again.
- Sunny K., esthetician
Feeling understood and supported and taking action
Coaching with Kare was an absolute delight!! She actively listened, read between the lines, and summarized my thoughts and patterns. She also gave really specific and helpful actionable next steps. I felt so understood and supported, and also very comfortable to be completely open and vulnerable with her. I highly recommend coaching with Kare!!
- Toni L., self-love coach
From avoiding moving forward with their business and their health to newfound awareness, clarity and the shift to take action to move forward
Before being coached by Kare, I avoided doing multiple things in my life that would move me forward in my business and in my health. I knew that I was really just sabotaging myself, but I didn't know why I was doing it or how to change it. Through showing me certain aspects of self-development that I had been refusing to work on, Kare was able to walk me through simple exercises in order to find clarity around where I was stuck. From that clarity, I'm now able to see where my behaviors are coming from and shift them in order to take the appropriate action going forward.
- Tou Ger Lee, coach
From not understanding what is blocking them to succeed to self-awareness
Kare absolutely can give you insight to what is blocking you just by talking to her.
- J. F., publicist & DJ
From wondering how to manifest traveling to playing with good intentions their desires more often
[I learned to] play with good intentions and desires more often
- Februalin P., coach