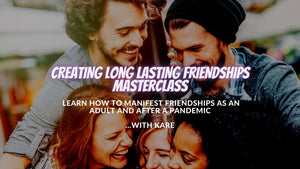 In this 2.5 hour recorded masterclass, you will learn how to make like-minded friends as an adult and after a pandemic, and boost your friend attraction magnetism. 
This is THE year you'll make real AF friends! 


Imagine having the kind of friends who...


 you can easily talk to and connect on a DEEPER and meaningful level...


 support you for you and want you to be happy and follow your dreams...


 you can just let go of talking about business with, and actually talk about things like sports sports, oracle card readings, or your favourite enamel pins and witchy books.... or more business ideas (yay entrepreneur brain!)


 you can have hard conversations with, maybe even trigger each other, and still be friends...


 respect you and your boundaries...


 or reconnect after YEARS of not speaking to each other...

In this masterclass, I will be teaching you how to create friends as an adult and after a pandemic.


 I'll teach you how to find friends that are like-minded and have the same interests as you, offline and online


 I'll teach you how to communicate with your friends so that you can keep on connecting with each other and grow your friendship together for years to come


 I'll teach you how to set boundaries and be vulnerable with your friends so that you can still be you and keep your friendships and make them stronger than ever


 And I will also teach you how to reconnect with friends you haven't seen in a while so that you don't have to make friends from scratch again.

Let's make some real AF friendships this year!

Enjoy the masterclass!

Frequently asked questions:
How does this masterclass work? Do you watch it at your own pace?

Yes! Our masterclasses are previously hosted masterclasses, so if you purchase a masterclass you will receive some video files depending on the masterclass, and then you can watch the video files on your computer or mobile device, at your own pace! 
How do I receive the digital file?
After purchasing this product, you will receive the digital files through a link and email to your inbox.
We would love to know your thoughts and results!
Send us an email at magneticunicorncoaching@gmail.com. 😍