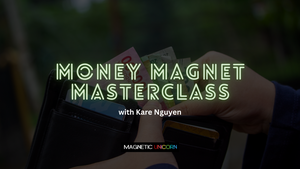 🎇 Are you looking to make more money outside of your 9 - 5 or business? 🎇
Someone who watched my masterclass manifested a $5000 check in the mail a few weeks after and also manifested paying off her credit card! 💸🤑💰
In this 4+ hour recorded masterclass, you will learn how to manifest the money you want as you calm your money worries and activate your money attraction frequency. 💵
This masterclass contains two videos.
Let's take a look at what you will learn:
💰 Video #1: LIMITING BELIEFS AND MONEY FEARS
Learn why you're not already bringing money into your life and what's blocking you, and how to remove it.
💰 Video #2: MONEY MAGIC AND MONEY MANIFESTATION
Clear your limiting beliefs and learn ways to create money easily and effortlessly, and how to already identify money in your life.
Enjoy the masterclass!

One of the LIVE masterclass attendees manifested a $5000 cheque and enough money to pay off her credit card debt after attending the masterclass :) 

Frequently asked questions:
How does this masterclass work? Do you watch it at your own pace?

Yes! Our masterclasses are previously hosted masterclasses, so if you purchase a masterclass you will receive some video files depending on the masterclass, and then you can watch the video files on your computer or mobile device, at your own pace! 
How do I receive the digital file?
After purchasing this product, you will receive the digital files through a link and email to your inbox.
We would love to know your thoughts and results!
Send us an email at magneticunicorncoaching@gmail.com. 😍